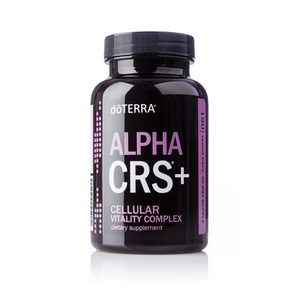 "Food Supplement with plants, carnitine, alpha lipoic acid, coenzyme Q10 and quercetin"
Description
Cells are the basic building block of all life. Healthy tissues, organs, and, ultimately, healthy organisms depend on cellular reproduction and specialized function, energy production, and timely cell death when cells are not functioning at optimal levels. As we age, cellular function can deteriorate and we gradually begin to experience decreased energy and performance.
Additionally, cellular stressors, including oxidative stress to cellular DNA and other key cell structures, challenge cellular heath. Providing cells with essential nutrients and metabolic factors of cellular energy and protecting our cells from toxic stressors supports healthy cell function, vitality, and wellness.*
Directions for Use
Adults, take 4 capsules per day with food. Alpha CRS+ is formulated to be used daily with xEO Mega and Microplex VMz. All three products can be found in one convenient pack—Lifelong Vitality pack. Save $69 by buying them in the pack.
Primary Benefits
Supports healthy cell function by reducing oxidative stress to DNA and other critical cell structures*
Supports healthy response to oxidative stress in cells*
Supports cellular energy by supporting healthy mitochondria and by supplying metabolic factors of energy production*
Supports healthy cellular immune function*
Supports mental clarity and brain function*
Contains a proprietary antioxidant cellular longevity blend exclusive to doTERRA that includes potent amounts of powerful polyphenols including baicalin from scutellaria root, resveratrol from Polygonum cuspidatum, ellagic acid from pomegranate, proanthocyanidins from grape seeds, curcumin from turmeric root, and silymarin from milk thistle to help support healthy cell function*
Contains a standardized extract of Boswellia serrata for boswellic acid that supports healthy cell function*
Contains a standardized extract of Ginkgo biloba that supports mental clarity and function*
Includes potent levels of metabolic factors of cellular energy (coenzyme Q10, quercetin, alpha-lipoic acid, and acetyl-l-carnitine)*
Made with sodium lauryl sulfate-free vegetable capsules; does not contain milk, wheat, or animal products
Includes tummy tamer botanical extract blend to prevent stomach upset*
Specially formulated to be used daily with xEO Mega or vEO Mega and Microplex VMz as a comprehensive dietary supplement foundation for a lifetime of vitality and wellness*


What's Inside?
Featured Ingredients
Frankincense Gum Resin Extract

Milk Thistle Seed Extract

Japanese Knotweed Root Extract

Pomegranate Fruit Extract

Green Tea Leaf Extract

Turmeric Root Extract