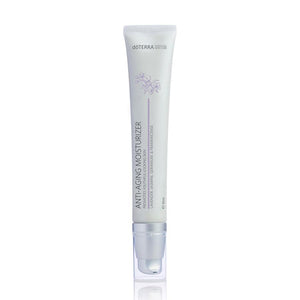 Description
doTERRA Anti-Aging Moisturizer combines cutting-edge ingredients with the CPTG Certified Pure Tested Grade® essential oils of Lavender, Jasmine, Geranium, and Frankincense to moisturize and soften skin while providing anti-aging benefits. doTERRA Anti-Aging Moisturizer targets the visible signs of aging by improving skin tone, reducing the appearance of wrinkles, and helping to reduce future visible signs of normal aging.
Primary Benefits
Contains ingredients that nourish the skin, helping to reduce the appearance of wrinkles
Contains natural, aqueous extract of dormant Summer Snowflake (flower) bulbs to promote a clearer, more even skin tone
Vitamolive is a fully natural ingredient extracted from the olive fruits, specifically designed for moisturizing and overall skin care.
Uses
Incorporate the Anti-Aging Moisturiser into your morning and night time beauty routine for optimal results.

Easily take with you on-the-go because of it's convenient, compact container.

Use the Anti-Aging Moisturiser with the doTERRA Anti-Aging Eye Cream.

Use alongside the Essential Skin Care line to further your experience of CPTG-infused skin care products.
Directions for Use
Apply with a light touch over face and neck. Use morning and night. Avoid contact with eyes.
What's Inside?
Full Ingredients List
One of the most prized and precious oils due to its rich aroma, Frankincense is often referred to as the "king" of essential oils. Centuries ago, ancient Egyptians used Frankincense resin for everything from perfume to salves for the skin. Its soothing and beautifying properties may be rejuvenating to skin and may help reduce the appearance of imperfections when applied topically.
Geraniums are grown for their beauty and their sweet, floral aroma is a staple of the perfume industry. Use of Geranium essential oil dates back to ancient Egypt, where Egyptians used Geranium to beautify skin. Geranium has been used to promote the appearance of healthy skin – making it ideal for skin products.
Experience the esteemed fragrance and the many cosmetic benefits that Jasmine oil offers in this convenient roll-on blend. Jasmine Touch can be applied for a calming, yet euphoric aroma that uplifts mood and promotes a positive outlook. Renowned for its skin benefits, Jasmine Touch can help to condition the skin. Regarded as the "King of Flowers," Jasmine is prized for its highly fragrant aroma, making Jasmine Touch ideal to use as a personal fragrance throughout the day.
With its distinct aroma and countless applications, Lavender has become one of the most popular essential oils. Anciently, the Romans and Egyptians would use Lavender for bathing. Since that time, many have discovered the myriad of other benefits it holds. Lavender is widely used in cosmetics and perfumes for its ability to promote healthy, clean skin. Additionally, its calming properties are often used to relax the body and improve mood. Its versatile benefits make Lavender an oil to have on-hand everywhere you go.
Cautions
For external use only. Avoid direct contact with the eyes. If skin irritation occurs, discontinue use.